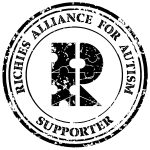 Every year, Autism organizations around the world celebrate a day with unique fundraising and awareness-raising events. How will you celebrate….
WHY– WE CELEBRATE?
Richie Perrone was diagnosed in 2009 and to be apart of a community that will pull together its resources to help children like our son is simply a wonderful act and a great community to be a part of. Every year Autism organizations around the world celebrate the month of April with unique fundraising and awareness-raising events. On April 18th, 19th & 20th 2022, Maggie Valley and surrounding areas will host a number of events to raise money to help families understand and live with Autism! All of our efforts will be to give assistance to the Haywood County Schools Foundation's ECP (Exceptional Children's Program). The Exceptional Children's Program provides specially designed instruction to ensure that all children with disabilities, ages 3 through 21, have available to them a free appropriate public education. The program emphasizes special education and related services designed to meet their unique needs and prepare them for further education, employment and independent living.
to Purchase tickets to any of the events click here
4\18\2020 "Casino Royale" Autism Awareness Golf Tournament Presented By Harrah's Cherokee Casino
an 18 hole captain's choice style tournament The Casino Royal theme at the beautiful Maggie Valley Club adds to the fun as hole sponsors will challenge your competitive spirit with casino style games offering players bonus opportunities to "up their game". Local breweries and restaurants will also be serving samples right on the course! Rounds are $600 per foursome and include a buffet lunch, ticket to our TASTE event per player. Registration coffee and Continental breakfast will begin at 8:00 Shot gun tee will be at 9:30 AM!!!
Purchase Golf Tournament tickets here
4\2020\2022"Taste" a food and wine festival Presented by Maggie Valley Club
WNC's premier culinary benefit featuring top chefs, wineries, and Brew Masters — all coming together to donate their time, talent and passion to help make Autism more understandable, held at beautiful Maggie Valley Club . Big names bring bold flavors to"Taste a food and wine festival"presented by Maggie Valley Club a delightful evening of gourmet food, wine, and local Brews. Sample from many local restaurants and mingle with the areas top culinary talent, sip award-winning wines and beer from some of the best local breweries. Serving for all early Guests from 5:00 to 6:00 Guests will experience Pol Roger Champagne tasting. In addition the ambience & the cool sounds of James Hammel and Friends performing a quartet featuring jazz, pop, and renditions of Artist like "Tony Bennett, Michael Bublé & Frank Sinatra. Master of Ceremonies Paul Viau will have the floor and our attention thought the evening & Auctioneer Allen Brasington will get everyone in the giving mood with a Live Auction, We will auction off some wonderful gifts and packages that will help all of our efforts we will be for the assistance to the Haywood County Schools Foundation's ECP (Exceptional Children's Program).